About Us
Since 2007, ALPENRIND, with its base in Salzburg, has distinguished itself as a sustainable, regional company and a partner of regional agriculture. The company focuses on proximity to farmers, short transport routes and careful procedures for the animals.
As one of the leading meat marketers in Austria, ALPENRIND attaches great importance to high-quality products. In order to meet the high demands of its customers, the company itself and independent authorities, carry out a large number of strict control and quality processes, which guarantee the highest food safety.
ALPENRIND carries all beef products, which are distributed for further processing to highly specialized, well-known food producers throughout Europe and beyond.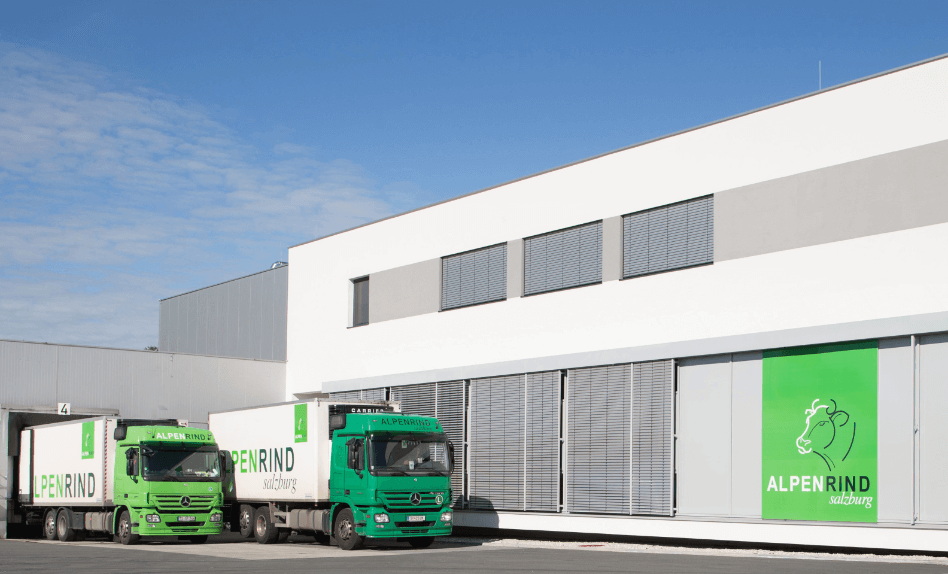 Sustainability and Quality
For ALPENRIND, the human, animal and environmental cycle is enormously important. ISO 14001 certified, ALPENRIND is committed to the careful use of natural resources, the responsible use of energy sources and the minimization of waste in all operational areas and activities. The certification is carried out by an independent certification body and guarantees that ALPENRIND is continuously engaged in active environmental protection.
Handling animals in a manner appropriate to their species, respect for animals and compliance with the Animal Welfare Act are top priorities at ALPENRIND. From the moment the live animals are delivered, independent veterinarians accompany all production processes.
These high standards are evidenced by recognized certificates and quality seals.
ALPENRIND guarantees complete proof of the origin of the meat – from the delivery of the live cattle to the dispatch of the goods to the customer.